Last August I had an idea that set off a chain reaction. I've long been frustrated by the lack of resources available for models who realize they're running a business and want to learn how to do it properly. When I started I was well aware that I was running a business, but I didn't expect it to be so damn hard. I grew up in an entrepreneurial family and was selling products at flea markets and farmers markets by the time I was seven. But just knowing sales skills, and that I had to act as a business owner if I wanted my modeling to be a viable career, wasn't enough - traditional business skills don't transfer over to most creative professions, and they're particularly difficult to apply to freelance modeling. To add to the difficulty level, there are little to no resources online explaining how to run a successful career as a freelance model.

I was ranting about this to my partner one day when a lightbulb turned on - what if I created those resources? What if I created programs through which I could teach models the business tools and skills they need to create a comfortable income, that would allow them to skip over the awkward learning stage I struggled through for three years? What if I could teach them how to avoid the worst of this industry so that they could enjoy its best? So I got to work. I interviewed models of all skill levels to find out what their biggest challenges have been, and I started forming a curriculum. I talked to models, revised the curriculum further, and held individual coaching calls. Most notably, I finally stepped into a long time goal of mine and opened a YouTube channel. I now have over 30 videos posted on topics from Choosing a Modeling Name to Nude Modeling With A Period.
Model Mayhem found my videos and asked permission to share them, and all of a sudden my view counts have skyrocketed. With their promotion I'm able to help huge numbers of models through my videos. But it doesn't feel like enough. These videos will help new models exponentially, and they'll offer some definite benefits to established models who need a boost, but I still wanted to find ways to offer deeper support to those who wanted it.
My dream has never been merely to help models find financial success. I want to teach models how to run balanced, sustainable modeling businesses because that frees them up to do so much more than just make ends meet. I want to create a movement of models who are aware of the impact that the imagery they create brings to the world, who stand firm in their value and demand respect rather than allowing the world to belittle them for their choices. Models who bring creativity, vitality, and energy into their collaborations. Models who remember the passion that brought them into the field in the first place. Models who have an end goal bigger than creating pretty pictures. I want to create a movement of models who have a message and know that through their art they are creating a platform through which the world will hear them. Thus was born Empowered Muses.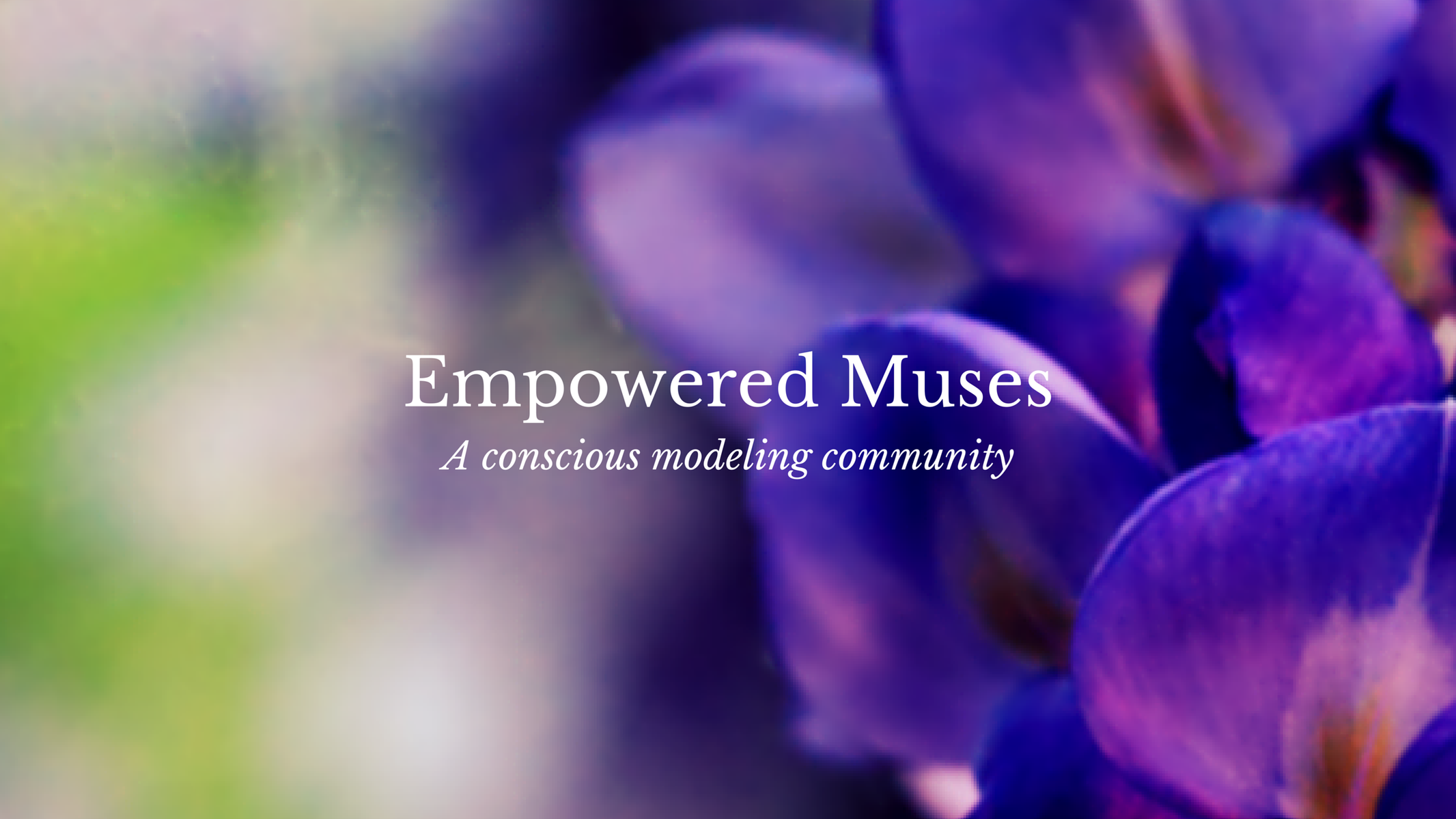 You're going to be seeing a lot of Empowered Muses moving forward. I'm in the midst of building a web presence for the brand, as well as creating some particularly juicy free resources beyond my YouTube videos. (Plus some kickass programs for the models who want to work with me!) My blog may become more oriented towards helping models than it already was, and much of my social media presence will be focused on that as well. I'm still an active model, so I'll still be sharing images, but my main focus will be on helping the community that has so richly supported me over the past five years.
I will continue posting YouTube videos, but I've decided that my original plan of posting twice weekly won't allow me to create the quality of videos that I'd like, so I'll be dialing it back and focusing on creating more valuable videos.
I am happily taking requests for video and blog post topics, so if there's something you think would be particularly helpful please leave me a message in the comments. And, as I invite you to join the Empowered Muses community with me, I invite your feedback. Please share below what your vision is for the freelance modeling industry, and what an Empowered Muse looks like to you.
About the Author
Eleanor is an accomplished traveling nude model and has been pursuing her art since 2010. Her work has been published in a variety of magazines, books, and galleries, including a special event at the Louvre. Through her business Empowered Muses she also helps freelance nude models who are tired of getting all the wrong gigs gain the confidence they need to attract plenty of great clients, and she is fiercely dedicated to helping her clients and the models who follow her create safe, fun, and profitable modeling careers creating art they love. To see more of Eleanor's work you can visit her website or follow her on Facebook.